AMBASSADORS
April to October
Tuesday, Thursday, Friday
10AM TO 6PM
Rome Time
–
October to March
Tuesday, Thursday
10AM TO 4PM
Rome Time
TELEFAX NUMBERS
+39.02.700.514.218 MILANO
+39-06-233-238.971 ROME
Active 24/24
ADVICE
We are absolutely not connected
to any public administration
RECENT TWEETS
"
HAPPY CLIENTS
"
"Paisagens magníficas num local muito aprazível!"
"Breath taking scenery with buildings nestled into the mountains. The beach scenery was nice too, glad I had my binoculars."
"

Molto caratteristico. Raggiungibile comodamente con pulmino da S. Margherita, o anche a piedi con una bella camminata sul lungomare."
"La bellezza della natura, non si può spiegare 😍"
"Luogo d'incanto come sempre."
"A beautiful place, great at this time of year with fewer tourists. Not a cheap place to visit for eating out but worth it for the ambiance!"
"Absolutely charming in May, with not so many people and great service at all restaurants. Small place with luxurious shops."
"A little gem of paradise I had not expected to encounter. It's an obviously fun place to visit and vacation for those who can afford it. The water is great and the hike up to the castle is nice also."
"Uno dei posti più romantici e raffinati che abbia mai visitato. Una perla italiana"
"A place you must see when visiting the Italian Riviera, have an ice cream and enjoy the view of the yatchs."
"Пафосное место, хотя бы и для галочки посетить нужно. Красивые виды. Поплавать можно по дороге из/в Санта Маргарита Лируре. Можно пешочком, заодно ознакомиться с пляжами и бухточками. "
"Прекрасное местечко!Очень понравилось здесь прогуливаться.От Санта Маргариты лучше идти пешком-слишком хороша дорога!"
"SUPER! Портофіно озвучено в багатьох піснях італійських виконавців. Ціни вище середнього по Італії. Парковка від 5 євро за годину. У вихідні дні потрібно стояти у черзі з авто, щоб потрапити в Портофіно."
"Atmosfera irripetibile per un angolo di paradiso unico ed esclusivo"
"Lugar lindo que quero voltar sempre que possa.2 vez aqui.❤❤❤"
OUR APP
"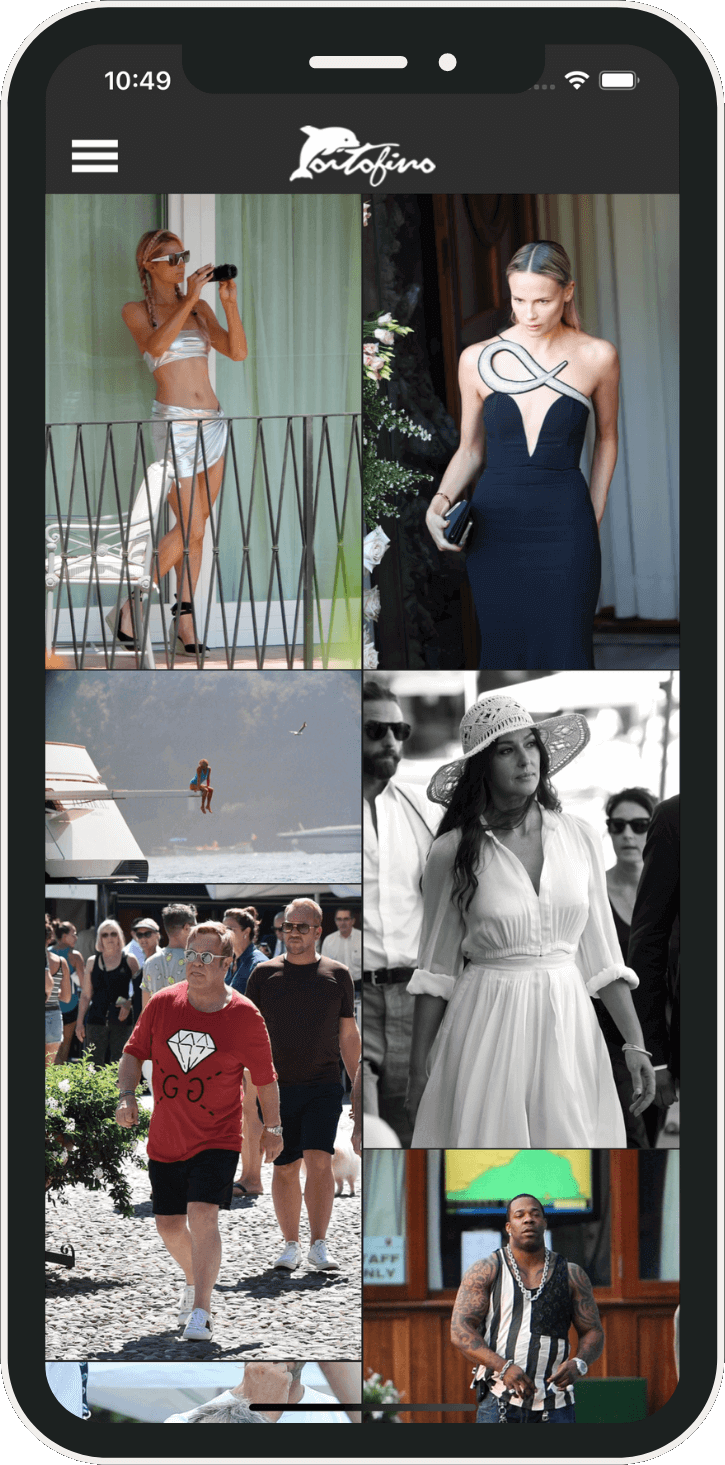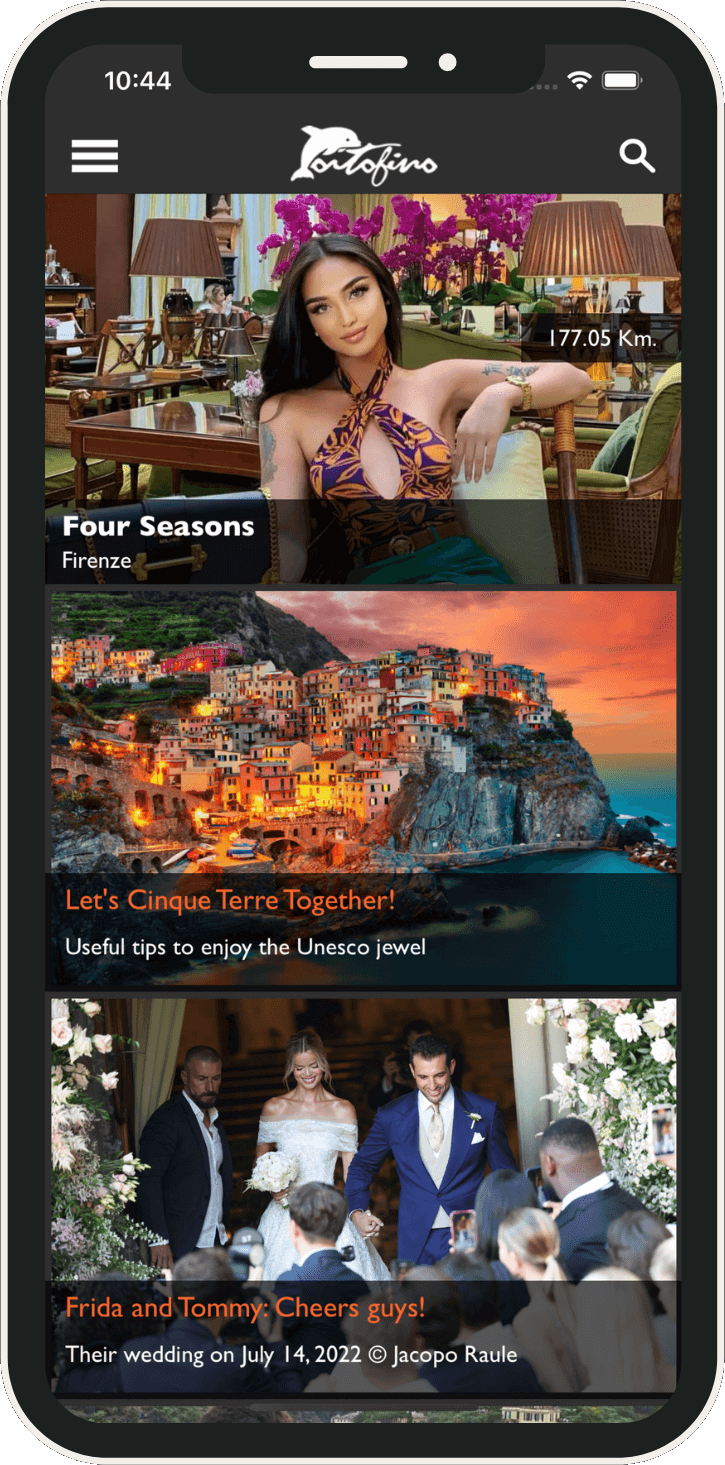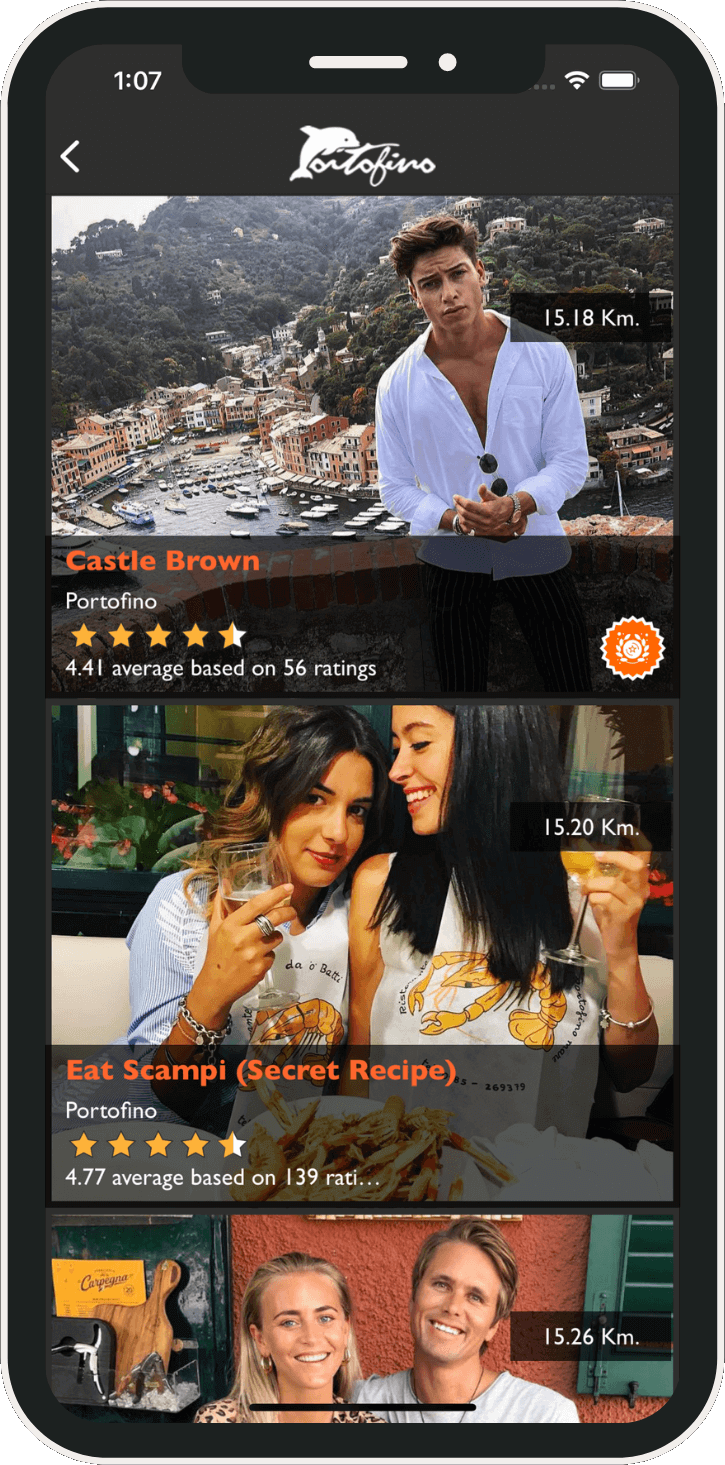 Portofino, one of the eight wonders of the world, is a fantastic hamlet on the sea-based in the Italian Riviera, close to Genoa in the Nord West area of Italy. It's easy to reach from Genova, Milano, Florence, Turin and Cote d'Azur. Portofino became famous in the 60s when the rich and famous characters of the «Dolce Vita», actors, actresses, pop stars, and rich aristocrats frequently started visiting it for its twilights, exclusive parties, and breathtaking views. Today, Portofino is a place known for international tourism and the jet-set lifestyle.
Three options: 1) You can book a Limousine Transfer. 2) If you prefer to drive yourself you can Rent a Car at Genoa Airport. The average transfer time between Genoa Airport and Portofino is 60/90 minutes – after the Morandi bridge collapse. 3) To finish you can choose the train too, moving from Goa Airport to Principe Rail Station. On an average weekday, there are usually about 50 trains per day traveling from Genoa to Santa Margherita Ligure, the railway station that serves Portofino. From this point, you need the public bus who runs every half an hour. In this case, the Ferry Boat transfer from Santa Margherita Ligure could be a fascinating option.
After the storm who broke the panoramic road to Portofino, the only way to get there is by  Ferry Boat from Santa Margherita Ligure or Rapallo. Please keep in mind that during the off-season this service runs only with good weather.
Between April (Eastern) to the end of October, you can come at any day. Usually, you can be in the middle of the crowd from Thursday to Sunday. The «Piazzetta» is always full of people, and you can feel as if you were in your living room. For the rest of the time – November to February – we suggest Portofino only if there is good weather and during the weekend. At Christmas – most of the shops are closed – but emotions are really amazing!
Aperitivo: Winterose at the end of Calata Marconi (left dock). Around 10 euro.
Art Gallery: Lorenzo Cascio on the right of the Piazzetta. Really amazing!
Eating Out: Da U Batti, behind the Piazzetta. Around 100 euro. Secret Scampi Recipe.
Beach: Cannone Bay, just a couple of minutes before Portofino.
Inspirations: Lighthouse of Portofino and the little wall above the yacht club in the walk to St. George.
Best Moment: From 8 pm during the season. Soo romantic!
Love Declaration: Terrace on the right of the St. George Church, Castle Brown and little pier on Molo Umberto I.
Magic: If you have time, walk to Portofino during Christmas, it's really magical. Embrace each other and let go!
Dolphins: 150 meters from the coast between Lighthouse and San Fruttuoso and in front of the Cervara Abbey. Best moment from October to March.
Whales: 500 meters from the coast between our lighthouse and Nervi (GE). Best moment from November to March.
Ducks: In the season you can find them inside the little bay of the «Piazzetta».
Barracuda: Between the little bay of Cala dell'Oro and San Fruttuoso.
Wedding: Possible with a little patience to the Church of San Giorgio. Access needs to be discussed in Townhall.
Best picture: Go to Castle Brown. There is a deck with stunning views. Even San Giorgio Church deserves.
Mothers and children: The access to the village and its surroundings is easy with prams. No problem. There isn't nursery in the city.
Keeping fit: Jogging along with the state Portofino to Santa Margherita Ligure (about 3.3 kilometers).
Dine in the Evening: In season, Ladies are dressed in an elegant evening gown.
Parking: Required for cars inside the silos. Cost during the season € 7,50 / h.
Underwater: Christ of the Abysses at a depth of 17 meters in the San Fruttuoso bay. Amazing!
With your dog: Required dogs on a leash. They are very welcome.
Disability: There is a lift in the parking measuring 82 cm. Arrive in Piazzetta is possible without too many issues. Floor sandstone.
Good to know: We have Newsstand, Pharmacy, Police, Post Office, Yacht Club, a Park, ATM, and Captaincy.
Toilets: They are in the square of parking on arrival. There are also at the end of Molo Umberto I. Pier at the right.
Emotional Thing: Arrive in Portofino by boat at the sunset. Absolutely!
St. George's Bonfire: April 23rd. Emotional moment.
Parish: +39.0185.269337 – Mobile +39.333.217.9407 – curia@chiavari.chiesacattolica.it
Where to Stay: The Splendido. A very enchanting and exclusive retreat with SPA. We recommend it.
When: From April to October each day. In winter only at the weekend. At Christmas – most of the shops are closed – but emotions are amazing!
INTERACTIONS
  
Download our App to browse Portofino like a charm.
Read The Dream of Portofino  🐬
Follow @Portofino on Instagram, Facebook and Twitter for the latest news.
Stay in the Loop: Join A World Apart!
Every year on April 23rd
, the celebration starts at about 7 p.m.
Saint George
is the patron saint of
Portofino
. There is a laic feast that celebrates the patron a few days before the religious ceremony. Don't leave when the bonfire ends. The celebration continues with a BBQ, local wine, focaccia, anchovies, and local delicacies. Some shops are open, as well as many restaurants and American bars. You might want to take a walk on the two docks, and in Piazzetta, maybe with your significant other for a romantic time in Portofino. Full of emotions.
The Saint George bonfire is a unique moment, quite popular among tourists and even the locals. Getting to Portofino by car can be very hard at that time. You hardly get any chance to park after 5 p.m., and you risk the traffic block in Santa Margherita. A good option is taking the bus or an electric bike from Santa Margherita Ligure, (you'll need a card, which you can purchase in Santa Margherita on the rotatory of buses in the morning). In this case, you can leave the car in Santa Margherita Ligure.

The Welfare Campaigns are something we continue to love with all our effort.
Our Dolphins during 2021 will support:
Campaigns:
Don't Leave Me (Pet Abandonment)
Grindadráp (Faroe Islanders' ritual slaughter of Pilot Whales)
Taiji Japan (Taiji Dolphin drive hunt)
Dignity in Dying (End of Life and Legal Euthanasia)
Organizations:
Sea Shepherd – They protect our Dolphins
A.P.S.P. Levico Curae – Alzheimer's disease
Up&Down – Down's Syndrome
Associazione Luca Coscioni – Dignity in Dying
Portofino is available for iPhone and iPad.
– iPhone 14: works like a charm;
– iPhone 13: works like a charm;
– iPhone 6s/6/7/8/X: works like a charm;
– iPhone 5s, 5c, 5: our app is compatible with these devices.
– iPad: our app is compatible with all the iPad versions.
Portofino is available for Android.
– Huawei P30, Mate 30 Pro: works like a charm;
– Samsung S9/S10/Note 21/21+: works like a charm;
– Our app is compatible with all android devices.

This site is optimized for recent browser versions.
• Minimum required configuration:
Windows:
– Internet Explorer 10.0 or later
– Mozilla Firefox 59.0 or later
– Google Chrome 65.0 or later
Mac OS:
– Safari 11 or later
– Mozilla Firefox 59 or later
– Google Chrome 65 or later
– IOS 9 and later
– Android 6 and later
Everybody can navigate on
Portofino.it
 ® without registering personal information.
However, when creating an account and ticking the Digital Communication box, a Portofino website member agrees to be contacted with invitations to events, products or customer satisfaction surveys. Moreover, when placing on order, Portofino collects all the data of the customer needed for the shipping and billing processes: name, addresses, email. Portofino signs on only providing the information needed to complete the order process, to its trustworthy third-party partners: bank institution, shipping partners. Portofino does not keep any credit card information. Please take a view of our Privacy Policy.

Should you require tourist Information or Help, please contact us by
Twitter
 or
Facebook
using our unique id
@portofino
. Our ambassadors will be happy to assist you. For business inquiries, please use the contact form on this page. Do not hesitate to contact us by telefax if you prefer at +39.02.700.514.218 or +39.06.233.238.971 at any time: 24/7/365
We are «I Delfini di Portofino 🐬» and we are absolutely NOT connected or represent any public administration.
Lat 44°18',18 N Long 009°12', 83 E
Soundings
Near the dock from 1.4 to 4 – near the buoys from 1 to 1.7- in the port from 0.5 to 16 M.
Winds
Southwest-sirocco winds
Sidewind: gregale
Lee wind: from the northwest
Description
Portofino harbor is completely docked, except for the two moorings at Cannone Bay.
Boat places: 16.
Entry
You must wait at the port mouth and contact the port service on channel 12VHF.
Speed limit below three knots and you must give way to boats coming out.
Radio
VHF-Channel 12
Dangers
Be careful of two shallows with surfacing rocks: one is situated in front of the building of the Local Maritime Office just below sea level, the other (0.5 m.) is starboard the fuel station.
Lighthouses and Lights

1675 (E1244)
White flashing lighthouse, 5 sec. intermittence, 15 M. capacity on the tip of Portofino.
1680 (E 1246)
Green flashing light, 3 sec intermittence, 7M. capacity on the inside corner of the Maritime Authority building.
1684 (E 1248)
Red flashing light, 3 sec intermittence, 7M. capacity on Punta del Coppo.
Fly to Genoa, Code: GOA.
Portofino is 45km east of Genoa Airport on the A12 motorway. Transfer time: 45 minutes. Rent a Car or book a Limousine Transfer from/to Genoa Airport.
Fly to Milano Malpensa, Code: MXP.
Portofino is 219km south of Milano Malpensa Airport on the A7 motorway. Transfer time: 2.30 hours. Rent a Car or book a Limousine Transfer from/to Milano Malpensa Airport.
Fly to Milano Linate, Code: LIN.
Portofino is 187km south of Milano Linate Airport on the A7 motorway. Transfer time: 2.20 hours. Rent a Car or book a Limousine Transfer from/to Milano Linate Airport.
Fly to Pisa, Code: PSA.
Portofino is 149km west of Pisa Airport on the A12 motorway. Transfer time: 1.45 hours. Rent a Car or book a Limousine Transfer from/to Pisa Airport.
Fly to Nice Cote d'Azur, Code: NCE.
Portofino is 237km east of Nice FR Airport on the A10 motorway. Transfer time: 3.00 hours. Rent a Car or book a Limousine Transfer from/to Nice Cote d'Azur Airport.
ADVICE
In the high season (May, June, July, August, and September), Portofino can get very crowded and it can be difficult to find a parking space. So, rent a car could be a nightmare! In this period, add 30/40 minutes to the transfer time, especially during the weekend.
A good idea might be moving around via public boats in Portofino. The service involves small ships that leave from Molo Umberto I (the dock on the right facing the sea) in a dedicated space. At the current moment, there are two lines that connect Portofino to San Fruttuoso, Santa Margherita Ligure, Rapallo, Chiavari, and Sestri Levante. The service is valid from April through October. During the other months, the rides are very rare or non-existent. During the peak season, they add some evening rides.
LINEA 1
San Fruttuoso, Santa Margherita Ligure, Rapallo. Departures: every hour from 9.30 (during summer) or 10.30 (March to November). Rides may vary due to weather conditions, feast days and events.
ADVICE
During summer and special events such as the «St. Giorgio Bonfire» on the 23rd of April, «Rapallo's feast days» on the 1st, 2nd, and 3rd of July, «Stella Maris» in Camogli the first Sunday of August and the «Cryst of the Abyss feast» in San Fruttuoso, the boats add special rides to cover the events.
UNIQUE EXPERIENCE
Getting to Portofino in the evening by boat is a unique and touching experience. Unfortunately, the last ride to Portofino from Santa Margherita Ligure is at 5.15 p.m., while from San Fruttuoso it is at 6.30 p.m. If you want to see the sunset in Portofino from a boat, get in touch with a Taxi Boat on Calata Umberto I. And don't forget to bring your electronic devices to snap some shots of the sunset!
WHERE ARE LOCATED THE BOATS?
Find the Ferry Boat in Portofino it's very easy. You just need to go on the right pier – looking at the sea – localize the Restaurant «Delfino». Go ahead for about 100 meters, you will see a small pier. Found it!
ADDRESS
Molo Umberto I, Portofino
Motorway A12 Exit to RAPALLO
Follow indications to Portofino. Transfer time: 25 minutes.
Motorway A12 Exit to RECCO (Romantic Solution)
Follow indications to Portofino. Transfer time: 35 minutes.
SANTA MARGHERITA LIGURE Railway Station. Transfer time: 20 minutes.
RAPALLO Railway Station (Second Option). Transfer time: 30 minutes.
Public Bus is available on both stations.
Taxi service is available too. (please arrange a price before to board)