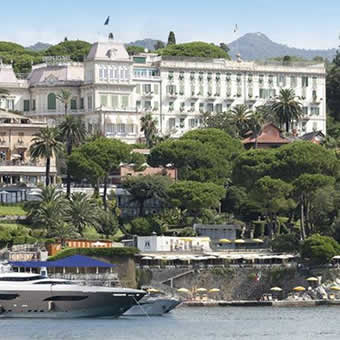 The Grand Hotel Imperiale in Santa Margherita Ligure is an obligatory visit for all who come to Rapallo, Santa Margherita, and Portofino was constructed in 1889 as a luxury villa for the Costa family, industrialists who had made a fortune in Corsica in the area around Ajaccio. Upon returning to their homeland they had the desire to build a splendid residence in a location with one of the most beautiful natural landscapes of the Portofino harbor. As Santa Margherita Ligure was becoming an ever more sought after Mecca for rich and noble northern Europeans who wanted to spend the winter in a mild climate, the Costas thought to transform their villa into a Grand Hotel.
Here they welcomed royal families, German and Russian dukes with their entourages and astutely learned to provide the aristocratic hospitality that their illustrious guests were accustomed to. During the course of this century, Queen Elena of Savoia was a guest. After the World War I the Treaty of Rapallo took place here (in those days the Hotel was within the city boundaries of Rapallo) and thus the guests included plenipotentiaries from Russia and those from Germany, who were interested in a separate peace and in the issue of German rearmament. In 1997, on May 21st, was the reviewed atmosphere of European cooperation and of Rapallo and Santa Margherita municipalities, the 75th anniversary of the overmentioned event was celebrated with a grand ceremony at the presence of many Ambassadors and Representatives of the international diplomacy.
At this time,  the Grand Hotel Imperiale in Santa Margherita Ligure, an elegant, 19th-century villa in liberty style, is still to be the most important 5 Star Hotel in this village with a private beach, large suite with marble bathroom and panoramic view. "An absolute jewel of a grand hotel of the "Belle Epoque" period. Whatever you expect of the Imperiale Palace – they keep their promise.." Hans from London.
You can check rates, photos, services, and availability here.
Portofino, a World apart.